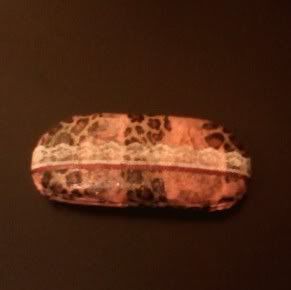 I had to give up contacts in my late 40's as my aging eyes couldn't stand the feel of them anymore, so it's back to glasses when I'm away from home. Trouble is, the free cases the optometrist gives me are 1) blah and boring (not me at all!) and 2) prone to disappearing in the bottom of whatever huge bag I'm carrying at the moment. Since the Law of UIUWIOMIDODW (see my first post) demand I not even consider buying something to remedy the situation, it was Podge time again in the old corral.

Everything I used for this project--tissue papers, lace and ribbon, glitter--was from my stash. Apologies for the indistinct and badly done photos. I am, after all, the Bag Lady, so my humble phone camera has to do for now.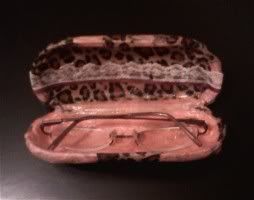 Too bad you can't see the bronze glass glitter on the top, which gives it a subtle shine. There's also a narrow satin ribbon outlining the bottom of the lace, which doesn't show up too well in the pics, either. Overall, though, I think this turned out rather nicely, don't you? In fact, I'm not too proud to beg my friends for their old hinged cases so I can make more of these in different colors and styles, as gifts.

Now I don't have to spend two and a half minutes rummaging for my glasses.

Cost: Coupla dimes' worth of Podge. That's it.
Satisfaction factor: Yee-HA!