First, The Victim, AKA the world's softest, coziest chenille sweater with the biggest elbow holes: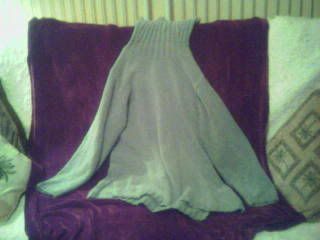 It was a freebie I got from my local Freecycle which I'm dissecting and piecing together again; the challenge being to see how many new things I can get out of it. I began with the turtleneck. It was like love for my neck on a chilly night, so right off I thought "neckwarmer". After cutting it out, I inverted and hemmed it under. Then I took some of the banding from the bottom of the sweater and fashioned a rose embellishment, like so: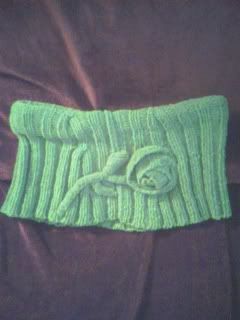 Now I can just throw it on under a jacket or even on top, instead of a scarf; or wear it around the house.

Cool! First piece down; now how many more to go?

Next I lavished some decoration on a pair of my signature black socks. I'll wear these all through the holidays (my book club Christmas party tomorrow night! Yay!) but also any time of the year. It was just a matter of snipping off the sweater wrists and stitching them inside the sock tops, then doing some quick cross stitch.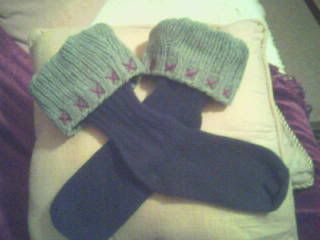 Everything is handstitched, of course, since old chenille doesn't take kindly to machines! The rest of the pieced sweater is under my craft table, awaiting my ADD-addled brain to flit back. I plan to get at least a hat, purse, marble necklace, cell phone cozy, and teddy bear out of it before I'm done.

Cost? Practically nada; maybe a quarter's worth of thread and embroidery floss. Also, I got a nice episode of Hercule Poirot out of the way while I worked.

Satisfaction factor: Moderately high; will go up when I make more stuff.