Like my little tree, the other decorations in our tiny habitat are also developing and morphing as the days tick away. I keep finding things to add. For instance, no room for a mantelpiece here, so I have a small-scale resin wall shelf got at a ridiculous closeout--$2, I think. On it I've surrounded a vintage tree topper with various castoffs picked up from the floor of the craft store, and outside the entrance. Pic 1 was taken last week: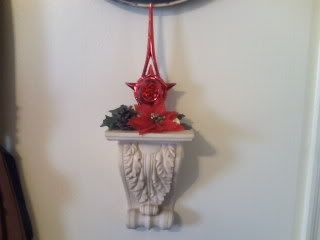 I just took this one about 5 minutes ago:




Maybe there'll be some trailing ivy on it before The Day. The rule is, whatever I put up this year has to be free.